Community Networks, the Internet, and WWW in "Marginal" Places: The Case of Clinton County, Pennsylvania.
Presented at the 1997 Association of American Geographers Meeting (Fort Worth TX).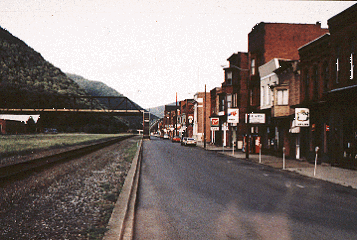 Downtown Renovo, Clinton Co., PA, facing abandoned rail yards.
Geographers are critically examining the social impacts of GIS, mapping, and information technology. Recent NCGIA and UCGIS initiatives on "GIS and Society" have focused attention on "Public Participation GIS" (PPGIS) and "GIS/2" ' conceived broadly as an integrative and inclusive process-based set of methods and technologies amenable to public participation, multiple viewpoints, and diverse forms of information. Currently, there are difficulties in defining the nature of PPGIS and GIS/2 and concerns about outsiders (academics) imposing technologies on communities and social groups. These problems may be addressed by examining cases of the "vernacular" development of community networks which resemble PPGIS and GIS/2. To this end, this presentation examines the development of an internet-based community network in Clinton County Pennsylvania. Clinton County is diverse: agricultural in the south, "Appalachia" in the north, and "Rustbelt" in the center. It contains some of the poorest communities in the state, presenting a case of economic and social marginalization in a beautiful physical landscape. This presentation examines the origins of the community network, driven by the desire to unify the community against continued attempts to site waste dumps in the region, to attract "clean" economic development, and to foster the education of a diverse and scattered population. The role of community self- representations, locally generated information, and spatial information, as well as dissent and exclusion are also discussed. Examining examples of vernacular community networks, such as the Clinton County network, provides a means of refining academic conceptualizations of GIS/2 and PPGIS.
KEYWORDS: Community Networks; Social/economic Marginalization; GIS and Society
E-mail: jbkrygie@cc.owu.edu
...back to krygier top page.
...to krygier research page.